Sometimes it feels like we never left March 2020, what with the pandemic and all. The kitchen interior design trends, however, have moved forward in 2022, and we're so excited to share them with you. We're often reluctant to use the word trend when referring to home design, as LUX decor always strives to create timeless spaces that serve our clients and their individual tastes for many years. In the following blog, however, we will be discussing some kitchen design choices that we predict will be popular this year! Without further ado… here are LUX decor's 2022 predicted kitchen interior design trends!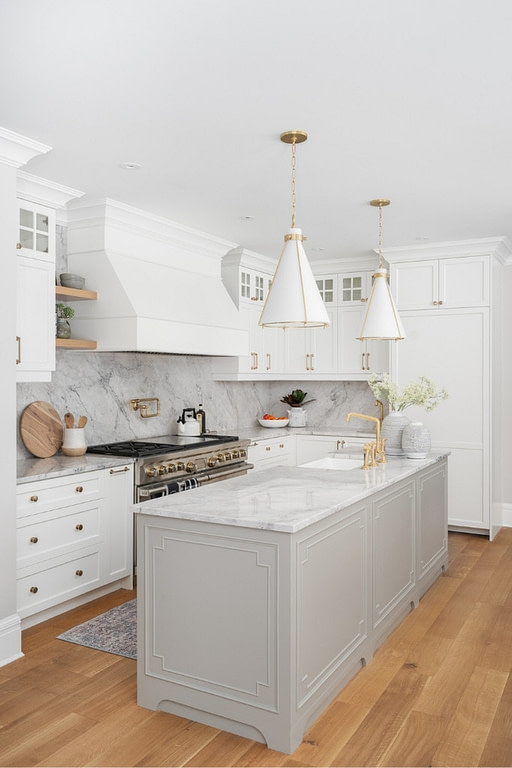 A Move Away from the All-White Kitchen
Yes, that's right, you heard it here—we are leaving the all-white kitchen behind. As everyone knows, we love white, and the all-white kitchen will always be spectacular. However, we are seeing a move to incorporate softness into this design, and less restraint with regards to the colour palette. We are seeing much more contrast, such as colourful runners, black appliances, and darker window frames. There has also been an increased interest in coloured cabinets, which may at times be paired with white cabinets. A look that LUX loves is a darker kitchen island combined with a muted taupe, such as OC-26 from Benjamin Moore.
The Counterculture
We are all embracing the move towards natural, organic-looking countertops. Popular choices include stone tops, such as marble and soapstone. Textured Quartz is another great option. More and more we are seeing people migrate towards increasingly subdued and muted patterns, rather than busier marble designs. Stones with low maintenance and resistance to chipping, like Quartz, remain a popular option. We often look for a countertop that will marry well with the cabinets and colour palette of your kitchen, rather than stand out.
When it comes to selecting the perfect countertop for your kitchen, the trend toward natural and organic aesthetics continues to gain momentum. Many homeowners are opting for stone tops like marble and soapstone, which exude timeless elegance and bring a touch of nature indoors. Textured Quartz countertops are also growing in popularity, offering a balance of durability and aesthetic appeal. There is a shift towards more subdued and muted patterns, as people seek countertops that blend seamlessly with their kitchen cabinets and color palette, creating a cohesive and harmonious space. If you're in search of a countertop that effortlessly integrates with your kitchen's design, explore our collection of stunning options and shop butcher block islands now to find the perfect centerpiece for your culinary haven.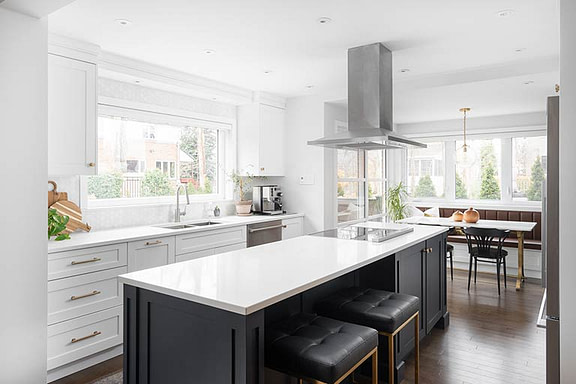 À Propos Appliances
So, what's new in appliances you ask? As mentioned above, we are seeing appliance manufacturers offer a greater variety of dark-toned appliances. Paneled appliances, however, remain trendy. Steam ovens appear to be the next big thing, allowing you to cook your food faster and with increased nutrient retention. We believe that we will be seeing them in many kitchens this year. With continually evolving technology, most new appliances will have WIFI and Bluetooth connectivity features. This allows them to incorporate into our ever-smarter homes! Our great-grandparents would hardly recognize the kitchens of today!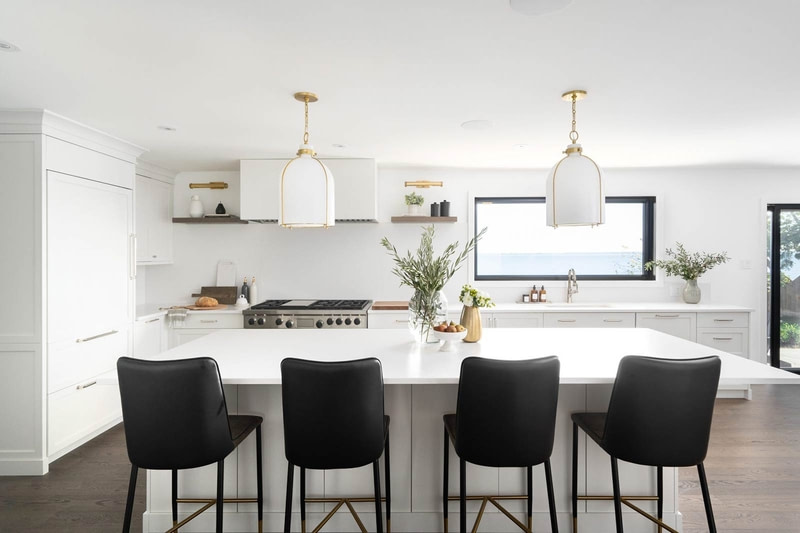 Storage So Good You Can't Even See It!
The last thing we want to be bringing into the New Year is last year's clutter. In an effort to keep our skeletons, or perhaps more likely your cleaning supplies, in the closet, we are designing kitchens with tons of storage. Should you be so lucky and are able to designate space for a walk-in pantry, this will allow you to store not only your cleaning supplies but also your less-used small appliances and non-perishables. Those who do not have the luxury of space might instead make use of hidden drawers and even hidden cabinets to maximize their storage ability. In today's kitchen design, storage options are limitless, and every inch of available space is being put to work.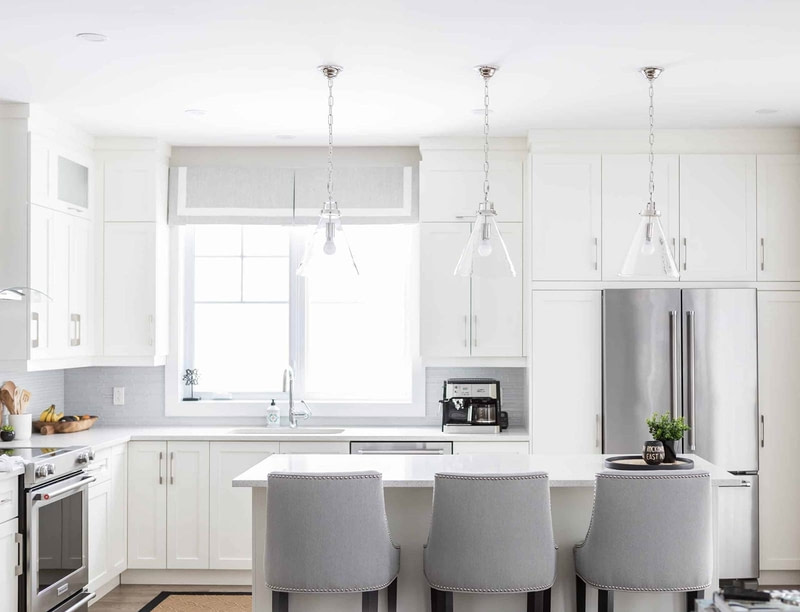 A Little Pick-Me-Up, Perhaps?
In recent years, we have seen an uptick in client desire for built-in coffee bars, wine fridges, and more recently hydration stations. We believe that these will be popular items in 2022 as well. Wine fridges are typically a relatively straightforward purchase. A coffee station or custom bar, however, will often be built to measure, and require time and planning to execute properly. That being said, we guarantee the work is well worth the effort, and after the chaos that was 2021, we all deserve a drink! Hydration stations can be as simple as filtered water provided directly from the fridge or might be more intricate and include a soda or built-in water station.
Pretty in Prints!
A trend we've noticed more and more in the last months (which will likely continue into the new year) is the incorporation of smaller art prints in the kitchen. Whether it is a beautiful still life, a landscape, or any other genre, displaying these on open shelving or on a wall can create a beautiful focal point in your space. While we don't often associate the kitchen with a place to show off our art collections, we're thrilled that this is becoming a trend!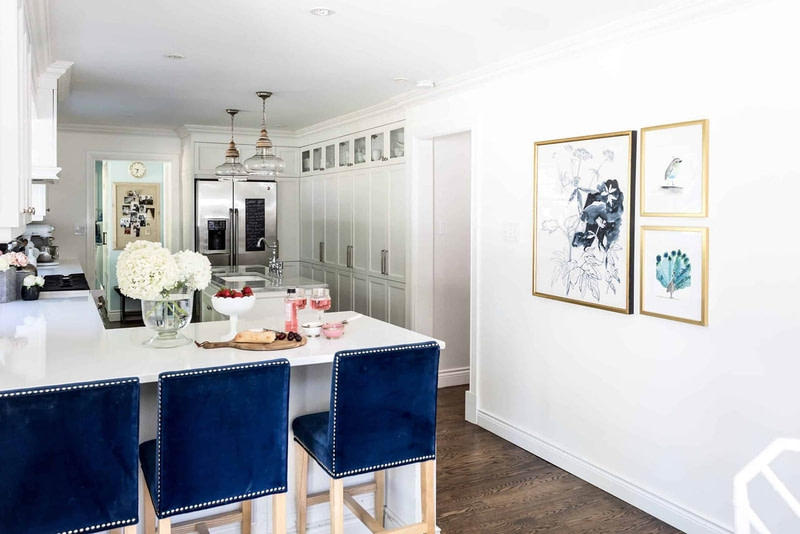 Design a Space that Speaks to You!
During these hard times, the kitchen has become a refuge. It is a space that grants us the ability to create, but also to make beautiful memories with loved ones. This means that having a kitchen space where you feel at home is super important. If you're looking to re-do your kitchen, drawing inspiration from current kitchen interior design trends can be helpful. However, the most important thing is that you choose to incorporate pieces and design elements that you love and that will make the space feel like your own. For example, Dakota Johnson's green kitchen cabinets absolutely blew up in 2020. Suddenly, we saw that stunning sage green everywhere! However, if this is not a color that speaks to you personally, we wouldn't recommend selecting it for your cabinetry. Just because something is popular, does not mean you have to like it.
That's a wrap of LUX decor's 2022 predicted kitchen interior design trends. As always, thank you for reading, and we sincerely hope you can create the kitchen of your dreams!
As always, thank you for reading!
---
Vouz cherchez à embaucher un designer?
Pour en savoir plus sur notre service de conception, cliquez sur le bouton ci-dessous ou contactez-nous par courriel à l'adresse suivante: customerservice@lux-decor.com.
As always, thank you for reading!
---
Vouz cherchez à embaucher un designer?
Pour en savoir plus sur notre service de conception, cliquez sur le bouton ci-dessous ou contactez-nous par courriel à l'adresse suivante: customerservice@lux-decor.com.