A personal approach to designing beautiful, thoughtful spaces is what we strive for. From large scale renovation projects, to room makeovers, our team will transform your house into a home.
LUX decor is a full service design firm, specializing in space planning, full renovations, custom millwork, kitchens & bathrooms, and everything decor related. We work hand in hand with all trades to facilitate your project from start to finish.
Our team will turn your house into a functional and beautiful home by curating furniture, fabrics, finishes and accessories, that reflect your personality and suit your lifestyle.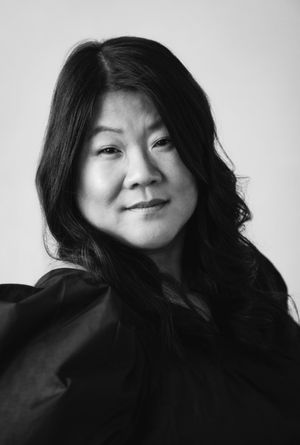 Founder & owner at LUX decor
Sun Ah is a passionate entrepreneur on a mission to build the most influential design community in Canada.
She founded LUX decor in 2003 and scaled the business with the help of three things: her ability to bring together talented creative individuals, a strong work ethic and a constant drive to succeed.
LUX decor has gone on to do some incredible things. Our team has won Houzz awards for Service and Design for 6 consecutive years; we've won the 2019 Quebecois House of the Year Award; we've been featured in publications including Canadian Home Trends, Maison et Demeure, and more; and we've grown our social media following to over 46,000 (and counting!)
In 2020, LUX decor experienced a make-over to become the epicentre of the Canadian design community. We launched a collaborative shared workspace where the country's best designers and creatives could come together under one roof.
Katrina began working for LUX decor in 2013 while studying Interior Design at Dawson College. On completion of her DEC, she joined the LUX decor design team full-time and has seen the completion of many beautiful transformations. Her goal is to create spaces that reflect her client's unique personalities, all the while ensuring a stylish and functional space.
Waking up at dawn every Saturday morning and making homemade pancakes with her children creates a sense of home for her. She looks to incorporate the same feeling of homeliness in all her projects!
After starting a degree in Art, Communication and Languages, Melissa realized that her passion lay in interior design and enrolled in an Interior Architecture school in Nice. Melissa has been working in the design industry for almost 14 years and her international background and extensive travel have allowed her to expand her design aesthetic.
Melissa appreciates the imperfections in her surroundings and takes the time to understand the stories they reveal.
She was born in the south of France with Spanish roots, which may explain her love for the beach and the sun! Having arrived in Montreal over 10 years ago, Melissa has helped many LUX decor clients realize their dream homes, always to rave reviews.
With an extensive background in both residential and large-scale commercial projects, Tamara brings LUX decor a wealth of experience and a fresh perspective. She loves the planning process and her attention to detail is one of her greatest assets. In each project, she strives to find the balance between creativity and functionality.
When she is not working on projects at LUX, she enjoys the best that life has to offer: her family, her friends, and her gorgeous Labrador retriever, Griffin. Tamara feels her happiest when wrapped in a warm blanket with a cup of coffee on a weekend morning. For her, it's the little things that create a sense of home.
How did a background in horticulture lead to a passion for design and decor? Prior to joining the LUX decor team, Cameron managed a large nursery and decor shop for almost 10 years. This, coupled with his Bachelor of Arts in Urban Planning, transformed into a love of everything design related. Cameron loves spending time in the refuge of his garden at the end of a busy day, which is where he recharges and feels most at home. No wonder why he creates the most beautiful flower arrangements at client reveals!
When he isn't designing, Cameron can be found working in his garden, or training for his next pole sport routine!
While new to this role, Daniil has worked at LUX decor since 2017 in the department of social media, where he developed an eye for both graphic and interior design. He attended the Arts and Sciences program at John Abbott and attained an undergraduate degree at McGill in Bioresource Engineering. Currently, Daniil is completing a master's degree in Urban Planning and is interested in biophilic design and placemaking.
Daniil feels most at home in a calm environment and a space that includes natural elements like plants. Despite his passion for urban design, his favourite place to be is at the cottage surrounded by friends.
Nicole was born and raised in Montreal and is the definition of "Joie de Vivre!" Perfectly bilingual and educated at HEC de Montreal, Nicole has perfected her craft in design administration. Her combination of an infectious personality and disciplined work ethic makes her a joy to be around. As the connector between each project and design team, she takes the time to truly understand what clients value most in a home. She's a great listener! Whatever the task or timeline, she gets it done with humour and grace.
Outside of her time spent working at LUX decor, her interests include home decorating, fitness training, and spending time with friends and family. For Nicole, spending the weekend at the cottage, outside of the hustle and bustle of everyday life, is where she feels most at peace.
Monique joined the Lux team in 2020 as Operations Manager bringing over 25 years of experience in Customer Service, Operations Management, and Accounting. If she weren't working at LUX decor, she could have easily made a living as a baker, as her sweet treats are legendary. Monique finds pleasure in the simple things in life like listening to 80's music, hanging in arenas watching her boys play hockey, and spending time with family and friends. For Monique, the beauty of home lies in the feeling she gets when baking with her children.
Although Monique is an exceptional team player, you will most often find her working diligently and quietly behind the scenes, exactly where she prefers to be. Monique has found a home away from home at LUX decor and is thrilled to be part of such a positive, supportive, and dynamic team.
With 20 years of experience as a sales leader and systems specialist in the decor industry, Kerry ensures our systems are tailored to meet the needs of the growing LUX decor team. He listens closely to his peers to ensure they have the tools and information necessary to serve our growing customer base. As the appointed Excel Master of the company, you can oftentimes find Kerry teaching the team about Excel features sharing his wisdom. We appreciate him for his infectious sense of humour and his passion for automation systems.
When he's not working away in Excel, Kerry likes to keep fit training for triathlons and has a passion for finding simplified solutions for complex tasks. His home out in the country is where he creates his sanctuary. For him, nothing compares to the feeling he gets when he prepares a big breakfast on Saturday mornings.
Samantha has a degree in Political Science from Concordia University, however, found she had a talent for sales and began working for a Canadian bedding and linen company. She later received her real estate license, and while working in commercial and industrial real-estate, she met her now husband and father of her kids.
Sam began at LUX decor as one of their photographers, taking photos of clients' finished spaces. Loving the team, she was always ready to help and put her organizational skills to work. Sam's attention to detail and her love for organization made her a perfect candidate to fill the role as affiliate coordinator. Over the past year, we have seen the Affiliate Program flourish thanks to her dedication and passion for creating the largest interior design community in Canada. We can't wait to see what she's going to do next!
Maria, of Greek and Egyptian background, was born and raised in Montreal. Maria has a unique talent for envisioning a space before production, for decorating and making any room come to life. She is working on in-studio consults and putting her passion to practice by helping with client decor needs. Time spent in the comfort of her home with her soulmate, Peter, their three wonderful boys, and puppy Henry, is what makes her feel the most connected to her space.
She has a keen understanding of the retail business, having spent over 8 years with Michael Kors. She developed her skills and love of design through her involvement in the development of investment properties with her husband. Her desire to continue to evolve led her to return to school to pursue a degree in Event Planning. During her studies, Maria led a team to fundraise over $10,000 dollars for the Autistic Children of Ste Justine Hospital.
Lara was born and raised in Montreal but finds inspiration wherever she goes. With a degree in Anthropology, she is passionate about the people, places, and spaces she encounters. She loves to tell a good story! When not storytelling, her interests include sound healing, spending time with her dog, George, or discovering natural wines at Montreal's latest hotspots.
After working in fashion for the past 10 years and expanding her studies in marketing and public relations, she was led to the world of design. Ever since her travels to Japan, she's been fascinated by feng shui and how energy flows throughout a home. She believes that your home is your sanctuary and that the environment you create can fortify your spiritual, mental, and physical well-being. Her sound meditation home studio is a special space to recharge and renew.
Nicholas, who was born and raised in Montreal, has taken on the role of E-Commerce Coordinator at LUX decor. Having finished his DEC in Commerce, he continues to study Economics at Concordia University. We are also proud to announce that he also completed his Environmental Certificate in CEGEP, as well as a financial certificate. Nicholas loves to learn! As he loves to take on new challenges, he's always thinking one step ahead.
His interests range from the environment and finance to fashion and streetwear. Hip design and fashion-forward trends are what create a sense of home for Nicholas. Needless to say, he's definitely in the right place!
David is a teacher by trade but has always had an interest in interior design. He has worked with LUX decor since its foundation. You can usually find David unboxing, mounting, and merchandising new product in the showroom. He has a passion for accessorizing and loves to add a fresh touch to any space. Whenever David comes into the office, he always brightens up our day with his sense of humour and positive attitude!
David's design style comes from a desire for organization and structure. He enjoys clean, modern lines paired with neutral tones, combined with punches of colour. Spending time at the cottage, surrounded by friends and family, is his sanctuary.
Eric loves to make sure that the warehouse is functioning as a well-oiled machine thus ensuring that LUX products are delivered on time. What he admires about LUX decor is the sense of family and community and working in an environment where he feels encouraged to learn from his mistakes. Home to Eric is a place where you can truly be yourself, without pretense.
It's no surprise that Eric is studying acting. You can catch him on our latest IGTV giving us a tour of the office. Rest assured, he's quite the comedian! Currently, his biggest fans are his aquarium pets, especially his lizard, Muchacho. His other hobbies include music and distracting his co-workers – you can always count on him to tell the best jokes!